All stats and details about hotlegsandfeet.com
Trial: No Monthly: $29.95
Members area screenshots

Video formats:
Pictures:
ZIP files:
Videos:
DRM protection:
Download Limits:
Cross Sales:
Billers:
Price Options:





Divx(1280x720),Avi(1280x720),MPEG(448x256),Mov(960x540)
150000+
Yes
1000+
No
No
No
CCbill
$29.95/30 days
$49.95/60 days
$64.95/90 days
$99.95/150 days
$179.95/365 days

Hot Legs and Feet Movie Sample (Flash Preview)
Short Review:
This site is a major surprise because of the sheer volume of content and there has to be over 1,000 models on this site all alphabetized. I haven't seen this many women since there was a sale on brand name pocket books in Beverly Hills. I'm not talking half assed models, these models who all do hardcore on the site are super model quality. Heck, even their thumbnailed pictures are worth collecting.
Click here to visit Hot Legs and Feet
Content Site:
There's like no end to content on this site. It just goes on and fucking on. Expect to spend several days just looking at what's here. To download it all would take much longer. There's just that much content here. It's all organized alphabetically and by months. You have some awesomely stunning models here. I'm talking major movie star and major supermodel type babes on this site. I couldn't believe what I was looking at at first because I thought some of these women couldn't be real and if they were why were they on a porn site when they should be on the covers of magazines. There has to be over 1,000 models on this site, all exclusive too. They must have paid a huge ass amount of money to get them all because they're fucking gorgeous. Not only do these models look awesome but just as you're looking at them and wondering if they would fuck, sure enough you see them getting fucked and sucking cock and doing all that nasty stuff. It's like a theme park of pussy going berserk. So when you join up you will see a massive database of models and the thumbnails are huge so you get that in-your-face look at them. Every one you see, there'll be pictures and videos of. No lame ass bullshit here just high end professionalism.
Features and Navigation:
There's lots of features here especially in the extras section that really surprised me. Not only does this site have thousands of models but they also have a special section where members can actually make requests from the models! Can you believe that? You can actually have a model pose for you or do a series based on your desires. That's more than just fan fantasies come true, that's service above and beyond the call of duty.
Conclusion:
This site has everything a porn surfer could want and then some. Lots of features, extra goodies, an army of high class models, easy navigation and a huge freakin' database of pics, movies, and updates. You can't beat that at any price.
Pros & Cons:
Pros:
Tons of content, beautiful models, easy navigation, tons of extras and goodies including various formats of the files to download.
Cons:
Not enough time in a month to look at all the content and download it all.
Click here to Join Hot Legs and Feet
Share and Recommend This Review:
Free porn samples, you can download easy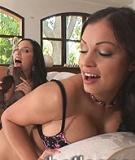 4 movies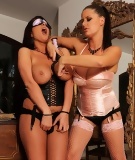 16 pictures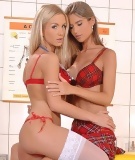 16 pictures
User comments:
Outside Reviews: